In this material we provide answers to the most common questions about Numlabs training. You will learn, among other things, how our courses look like, what made us take on a new challenge and why you should take advantage of our offer.
What kind of training does Numlabs offer?
We share knowledge about Data Science and Machine Learning. Numlabs projects are connected with these fields. Depending on the needs of our customers, we offer three types of training:
Introductory courses - what distinguishes them from others available on the market is their orientation towards business customers, in particular founders and managers taking up their first challenges connected with DS and ML projects. During the course we show where to start and discuss possible solutions to the most common problems at the initial stage. The introductory course is a good choice for a client expecting a partnership approach. Thanks to us you will find out, among other things, if AI fits your business, what competencies the team should have, how to collect data properly and what you should prepare for.
Several days of intensive classes - the purpose of these courses is to train participants in specific applications of Machine Learning, so the introduction to the class is to determine the scope of joint activities and the extent to which the students will use the acquired knowledge. Affordable form of lectures with workshops allows for quick consolidation of new skills.
Training Plans and Team Building - this type of course is a combination of training and client project work. Students learn by developing a tool that is being implemented in the company. This way they not only gain knowledge of Machine Learning, but also know exactly the functionalities of the new software. All this takes place under the watchful eye and with the help of Numlabs team of developers.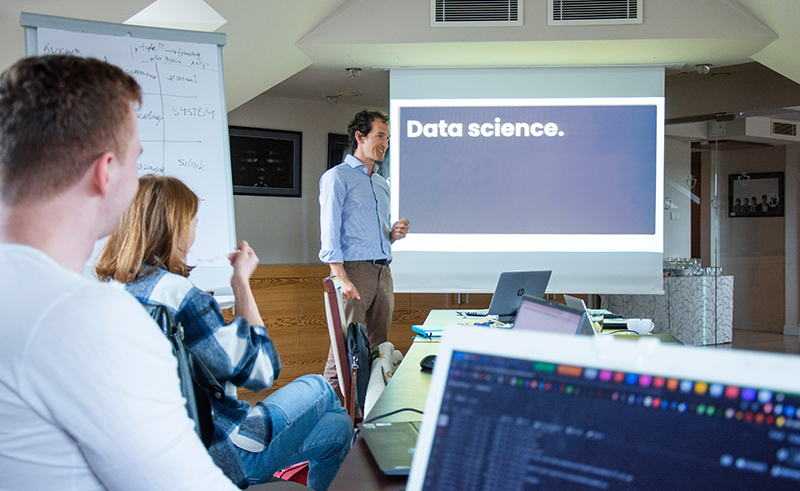 The IT team at my company needs DS and AI training. Will you be able to provide them?
Yes! Establishing fruitful cooperation with the client's developers is the foundation of every project. Our training courses are an extension of this collaborative approach. Thanks to Numlabs courses IT teams can learn about Data Science and Artificial Intelligence, or complement their knowledge in both fields.
What if I don't know what training I need?
We can certainly help you choose the right course. Analyzing your needs, requirements and how to achieve them is part of our daily work in IT. By talking, sharing information and involving everyone in the task, we will manage to define the goal and then set a path to achieve it. We want the topic, examples and tasks to be geared towards your industry. This will ensure that trainees are prepared for the tasks they will face.
Is training stationary or online?
We run both stationary and online courses, adapting our methods to both forms. When we meet live, we focus on teamwork, and when we train online, we actively mobilize participants and make sure they make progress together.
You are a software house, so where does training come from?
While executing new projects, we often meet executives who are keen to gain ML competencies. To a large extent it was them who inspired us to engage in trainings. We are also motivated by more and more applications from individuals, companies and institutions intending to master new knowledge and educate their own employees. For ourselves, trainings are an opportunity to put in order the experience we already have on this ground.
Okay, but why should I choose Numlabs?
Because we are practitioners. We pass on knowledge gained in our daily work and we can point the way to the development of Data Science and Machine Learning, and by discussing the challenges and problems we faced ourselves, the recipients can learn from our mistakes. We also try to respond to the individual preferences of the course participants. In this way, practicing new knowledge is easier, faster and, above all more effective. Training is also a challenge for our team - another experience that will make us more effective in carrying out the main tasks of Numlabs.
How to schedule training step by step?
Send to us mail, call, or simply leave a comment on our social media channels. A training person will contact you and guide you through the process. We'll determine your needs and offer a dedicated set of trainings.
Where can I find more information?
Contact us via Facebook, Linkedin, Instagram, e-mail: office@numlabs.com, or call us at +48 793 351 569. We will quickly answer for all your questions about training. We also encourage you to visit our company Blog, where we share news from the IT industry and our original texts.